About Us
Established in 2006, Mindbase Consulting Ltd. brings to bear the combined experience of professionals from different sub-sectors of the Trinidad and Tobago IT industry to deliver world class solutions.
With years of experience behind each of our developers, Mindbase is of the firm belief that we can offer products and services that far exceed the expectations of our clients.
Mindbase Consulting specializes in providing affordable solutions tailored to the specific needs of our clients, large and small. We have extensive experience in developing Content Managed Websites, Web Applications and Mobile Applications. Through innovative development and use of software, we can streamline your company's business processes so as to enhance the efficiency and profitability of your organization.
Primarily delivering content managed websites and web applications at inception, we quickly moved on to the world of SMS applications and created a number of solutions for mobile ticketing, commenting and coupons for local carriers such as BMobile and companies in the local media, such as CNC3. We have developed mobile apps as well for the Android and BlackBerry platforms, and have integrated mobile payment solutions in them for clients.
Mindbase encourages and maintains a culture of learning and we consider ourselves well-equipped to tackle a wide variety of projects in multiple platforms.
Company Director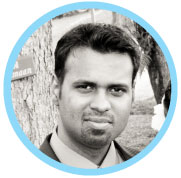 Shawn Beharry